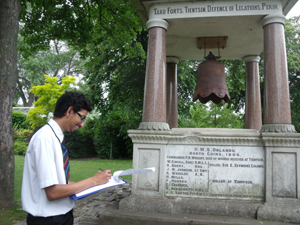 War Memorials Trust aims to educate young people about the importance of war memorials, both in the past and in the present day. With this knowledge young people, the future custodians of the UK's war memorials, will be able to continue our work to protect and conserve war memorials and ensure they remain in our communities forever.
The lesson plans in this section cover general war memorial issues, including:
the history of the UK's war memorials and Remembrance
researching the names on war memorials and using them to learn about local history
the varying designs of the UK's memorials
The Trust's lesson plans have been written by a Learning Officer and tested in schools. They are fully linked to the Key Stage 3 National Curriculum.
Using the lesson plans
Please use the links on the left to access the lesson plans. We have designed these plans to be flexible and you can download and use the lesson immediately or adapt it and the accompanying resources to your specific needs.
Other resources
Our helpsheets for teachers and online Gallery of war memorial images provide further support for these lessons.