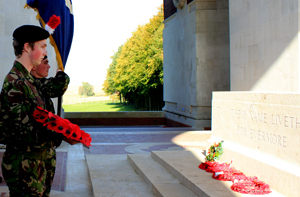 War Memorials Trust is developing resources for youth groups In this section of the website you can find resources for:
Scouting
Guiding
Other youth groups such as Cadets, Duke of Edinburgh Award participants, school clubs and out-of-school groups
We also have advice for any young person wanting to get involved in war memorial projects such as In Memoriam 2014, War Memorials Online and helping with war memorial maintenance.
Showcase
Youth groups can submit work they have already done to our Showcase. Visit the Showcase to see what others have already done and get some inspiration to get you started.
Get Involved
Young people can also get involved in the work of War Memorials Trust in other ways. Visit our Get Involved page to see how you can help us identify mystery memorials and help us with our fundraising.
If you have any questions about how young people can get involved in war memorial work, or any suggestions for materials you would find useful, please contact our Learning Officer.