This page shows examples of war memorials that do not fit into any of the other categories shown in the menu on the left. Please see the Gallery page for details of how you can use these and copyright details.
Hale and Woodgreen, Hampshire (WM1213)
The parish of Hale and Wood Green has two Books of Remembrance, one in each of its parish churches. The books commemorate the fallen of the First World War and were dedicated on Remembrance Sunday in 2003.
© Alan Cawsey, 2009
Hoylake, Merseyside (WM6378)
St Hildeburgh's Church in Hoylake contains a Second World War memorial in the form of a handwritten Book of Remembrance, kept in a display case.
© Martin Flowerdew, 2011
Brechin, Angus (WM6475)
In this war memorial, situated in Brechin library, the names of the fallen from the First World War are handwritten in a book, together with details of when and how they died.
© Van Leiper, 2009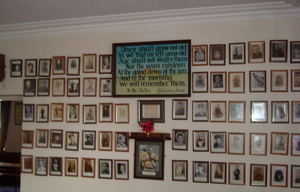 Dawlish Wall of Remembrance, Devon (WM2541)
In 1990 The Royal British Legion dedicated a room in their hall to Dawlish personnel who died fighting for their country. The room contains photos and war records of individuals who served in the First World War, Second World War, Falklands and other conflicts.
© Dawlish RBL, 2009
Tranmere, Merseyside (WM4008)
Tranmere Methodist Church in Merseyside contains a framed roll of honour listing the names of the fallen of the First World War from that church and school.
© Michael P Coyle, 2010
Torquay, Devon (WM902)
The war memorial in Torquay consists of an elaborate watercolour painting showing figures of Britannia, a lion, a cannon and various flags on top of marble columns. Beneath this names are painted onto a landscape of men running into No Man's Land.
© War Memorials Trust, 2008
Stamford, Lincolnshire (WM898)
Stamford war memorial was unveiled in 1919 and consists of a timber shrine showing a figure of Christ above a frame, on which are written the names of those remembered.
© A L Stubbs, 2010
East Stoke, Dorset (WM1165)
The East Stoke memorial has three recesses, one of which contains a cross and two which show lists of names and dedicatory inscriptions.
© Mr C E Moreton, 2009
Oatlands, Surrey (WM2225)
This war memorial shrine was originally erected after the First World War. An additional plaque was added after the Second World War, dedicated to the men, women and children who died as a result of enemy action - so this memorial commemorates civilians as well as service personnel.
© Clive Gilbert, 2011
Woodchurch, Merseyside (WM4994)
This memorial commemorates the fallen from the First and Second World Wars.
© Peter Jackson-Lee, 2011
Tylorstown, Mid Glamorgan (WM732)
This memorial consists of a bronze cross in an oak case, with names to each side and an inscription above. The materials used to construct it were taken from HMS Britannia, a battleship sunk towards the end of the First World War.
© Ceri Jones, 2010
The Sundowner, Kent (WM1493)
This memorial was one of the 'Little Ships' involved in the evacuation of Dunkirk and forms part of the Dunkirk memorial in Ramsgate. At the time of the evacuation the ship was owned by Commander Charles Lightoller, the senior surviving officer from the Titanic.