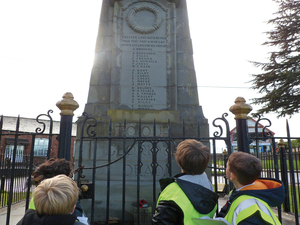 On these pages you can access information about different war memorial projects and how you can get involved in them.
These projects are designed to give you more hands-on, practical activities to do that are linked to war memorials and helping to conserve and protect them. You could combine ideas from different projects and with our other resources.
Please remember to discuss any project you intend to do with your parents/carers or group leader before starting work, especially where the project involves work to an actual war memorial.
The following projects can be accessed from the menu on the left:
In Memoriam 2014
War Memorials Online
War memorial maintenance
Working with the community
Showcase
Don't forget to share any work that you do with other young people by adding it to our Youth Group Showcase.