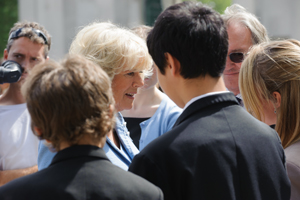 Building a greater understanding of war memorial heritage, particularly among young people, has been one of the aims of War Memorials Trust for a number of years.
In 2003 work began on developing an education strategy, recognising that education was central to promoting the importance of war memorials.
In 2008 War Memorials Trust collaborated with the United Kingdom National Inventory of War Memorials (UKNIWM, now known as the IWM's War Memorials Archive) on a proposal for a joint Learning Programme, which was subject to UKNIWM securing a funding package. Unfortunately the relevant bid was unsuccessful.
Learning conferences
War Memorials Trust therefore looked at how it could deliver aspects of the proposal independently. Initially, in 2009, War Memorials Trust launched educational conferences for professionals aimed at assisting those involved in war memorial conservation. Five conferences were held across the UK in 2009 and 2010 for war memorial custodians and contractors. This aspect of the work was prioritised because it directly impacted upon the Trust's core activity.
The Learning Programme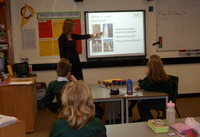 However, alongside these conferences, in 2010 the charity began fundraising for a youth focused Learning Programme. Educating tomorrow's custodians about our war memorials is vital if the work we do today is going to be preserved in the future. In May 2011, the Trustees decided that it was appropriate to start the programme and in August 2011 a Learning Officer joined the charity.
The first year

Our Learning Officer began by working with a number of schools, youth groups and other heritage organisations to research and develop the Learning Programme. Further information about what the Learning Programme offers young people can be found on our What we do page. A full list of the people and organisations we worked with during the early days of the Learning Programme can be found on our Acknowledgements page. War Memorials Trust is extremely grateful to these organisations for their support.
Learning Volunteers Project
In September 2013 War Memorials Trust received a grant of £9,900 from the Heritage Lottery Fund's Sharing Heritage scheme to develop a Learning Volunteer role. This grant was used to fund a year long project to train Learning Volunteers to deliver learning sessions in schools and youth groups, so that they could work directly with young people and help them learn about their war memorial heritage.
More information about this project can be found on the Learning Volunteers page.
The future

War Memorials Trust is entirely dependent on voluntary donations to be able to run the Learning Programme. If you wish to support the Learning Programme by making a donation, please go to our donate page.

If we succeed in securing the necessary funding, War Memorials Trust will expand the range of learning materials on offer. Our plans coincide with the centenary of the First World War and the forthcoming centenary of when many war memorials were created in the aftermath of World War I. We aim to support teachers and youth leaders during and after these years.

We are extremely grateful for all support received for the Learning Programme and hope we will be able to continue to support young people as they learn about their war memorial heritage.