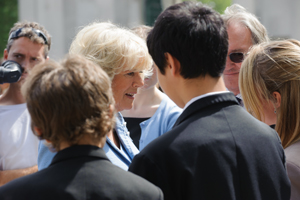 This page gives information about the key people at War Memorials Trust who are involved with the Learning Programme.
Staff
Learning Officer
Carlie Silvey joined the Trust as Learning Officer in May 2017.
Prior to working for War Memorials Trust, Carlie obtained a degree in Primary Education (with a focus on maths and history) from Canterbury Christ Church University. After graduating in 2008, Carlie spent 7 years teaching in a primary school in West Sussex. The creative curriculum the school adopted allowed Carlie to use historical periods, events and people as a key focus for the children's learning. Upon leaving the school, Carlie worked in a number of West Sussex primary schools as a supply teacher and also spent some time working for the trade union UNISON. Carlie is delighted to join War Memorials Trust as her role will allow her to combine her interest in history and the importance it plays in understanding the present and the future, alongside her passion for educating young people.
Carlie is responsible for delivering the Trust's Learning Programme, which provides resources and advice for schools and youth groups carrying out work linked to the Trust's aims. She is the main point of contact for enquiries regarding the Learning Programme and education. She can reached on 020 7834 0200 / 07410 441397 or carlie@warmemorials.org.
Other staff
For information on the other staff working at War Memorials Trust, please visit our main website.
Trustees
For information about War Memorials Trust's Board of Trustees, please visit our main website.
Volunteers
The work of War Memorials Trust is supported by our Office Volunteers and our Regional Volunteers – please see our main website for more information on these roles.
Learning Volunteers
In 2013 War Memorials Trust received a grant from the Heritage Lottery Fund to create the role of Learning Volunteer. This helped us to extend the number of talks and workshops we were able to offer to schools and youth groups at the beginning of the First World War centenary. More information about the exciting project is given on the Learning Volunteers page.