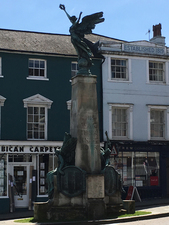 War Memorials Trust has developed a set of learning resources which focus on war memorials in Sussex. These are available to download using the links in the menu on the left.
The lesson plans, helpsheets and case studies can be used by schools and youth groups in Sussex wishing to engage young people with their war memorial heritage. They could be used as part of a local history topic enabling pupils to explore the impact of national and global events at a local level.
The lesson plans encourage young people to consider war memorials as sources of historical information while exploring their emotional significance. The accompanying case studies provide key information about several war memorials located throughout East and West Sussex. These can be used to accompany the lesson plans.