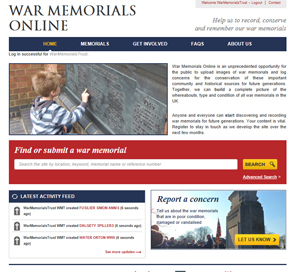 War Memorials Online is a project run by War Memorials Trust, with the support of English Heritage.
What does the project do?
War Memorials Online seeks to create the UK's most comprehensive understanding of the condition of war memorials to date. It will help us plan for the future conservation of local and community monuments so they are fit to mark not just the events to commemorate the centenary of World War I but beyond.
The project's website, www.warmemorialsonline.org.uk, offers members of the public the opportunity to upload or amend details of war memorials, including their precise location and basic condition information. Photographs and links to other websites with information about the war memorial can also be added.
Why is this an important project?
The aim of the project is that, with people uploading information about their local war memorial, we will create an improved understanding of war memorials across the UK. Whilst many existing records have location details for example, these are sometimes not as accurate as desired so getting people on the ground, who know the area, to check and confirm location will greatly enhance the records held.
This is important because up to date information will help War Memorials Trust better understand the condition of war memorials we seek to protect and help us assess how our resources are most likely to be needed over the coming years as we approach the centenary of the First World War. It will also help by allowing concerns to be highlighted quickly so that appropriate action can be taken.
"War memorials record the history of ordinary – and often extraordinary - individuals so what could be more appropriate than a project which enables anyone and everyone to share and contribute to this history, the history of our nation's greatest sacrifice. " Simon Thurley, Chief Executive English Heritage.
What can young people do?
Many young people are already involved in researching or helping to look after their local war memorial, and this project allows you to get involved in creating a more permanent record of it and the people it commemorates.
Visit www.warmemorialsonline.org.uk. On this website is a map (example shown right) showing the memorials already recorded. Each memorial is shown by a pin which marks the location information currently held. This pin can be moved around the map to ensure we establish the correct, current location.
If your war memorial is not shown you can upload details of it and create a new location record (example shown below, right). Photographs can be added to both current and new records. When information is uploaded you can also add condition information, comments and links.
You can even upload details of all the war memorials you know about to create a record of all memorials in your area. Doing this can be a fascinating project and reveal some history of the local area in a unique way. It might also count towards the requirements for a Scout or Guide badge or the Duke of Edinburgh Award.
Remember that war memorials are important to the whole community, and you can help others contribute to War Memorials Online by promoting it locally, helping them take photographs and assisting those who may be unfamiliar with websites with uploading their own records.
Other ideas about how young people can learn about war memorials can be found on this website – explore our learning materials or contact us for more information.