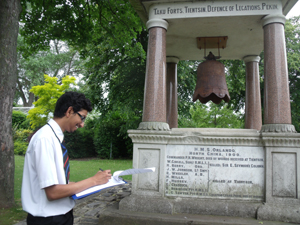 As well as using the materials on this website you can arrange for our Learning Officer, a qualified teacher, to visit your school. This is an excellent opportunity for pupils to gain a greater understanding of the significance of our war memorial heritage and inspire them to become the war memorial custodians of the future. It can also form part of a local history study.
The content of a visit is flexible and individually planned so can be tailored to meet your requirements and cover the particular aspect of war memorials you would like your pupils to learn about. Visits can consist of assemblies or lessons or a combination of both and can even include a visit to a local war memorial. More information about the topics and issues we cover can be found in the Visit Booking Guidance Notes. To help you make the most of the visit and to ensure that our time and resources are used effectively, our Learning Officer is happy to work with several classes during the day, or visit several schools in the same area if you can arrange this with colleagues.
"The session about the impact of the war based around the memorials really set the war in a local context which helped students to think about how the war may have affected where they live and their own families." Lead Teacher of Humanities following a visit to their school by War Memorial Trust's Learning Officer.
Our Learning Officer is able to carry out visits throughout the academic year across the whole of the UK. We strongly recommend contacting us well in advance of when you would like your visit to take place in order to avoid disappointment particularly if you are considering a visit during October or November.
Examples of work done during previous visits can be found in our Showcase and Feedback pages.
Availability update
Our Learning Officer is now fully booked for visits until the end of November 2018. Should you wish to arrange a visit our Learning Officer has availability from December 2018 onwards.
Costs
War Memorials Trust is a charity and our income comes entirely from voluntary donations. Our visits are offered free of any standard charge but the Trust asks schools and youth groups to make a contribution towards the costs of visits. These donations help the charity cover travel expenses incurred during visits and help fund the development of future learning materials, so that we can continue to offer high quality support to young people as they learn about our war memorial heritage.
Suggested donations are:
£50 for a half day visit (with a minimum time of two hours)
£100 for a whole day visit
Further details about costs can be found in the Terms and Conditions.
Booking a visit
To arrange for our Learning Officer to visit your secondary school, please complete and return the Visit Booking Form. The Visit Booking Guidance Notes and Terms and Conditions provide more information about the visit and visit booking process.
If you would like to discuss a visit further or find out more before booking please contact the Learning Officer on learning@warmemorials.org or telephone either 020 7834 0200, 07410 441 397 or 0300 123 0764.