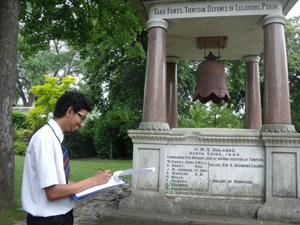 This lesson can either be used in conjunction with our other secondary school lesson plans, or be used as a one off. Unlike the other lessons it has a focus on Art and Design and therefore provides a cross curricular element to this topic. There is also potential to incorporate ICT and Citizenship into the lesson.
Aims of the lesson
Pupils will evaluate exisitng memorials and then design their own memorial, following a specific brief decided on in class and incorporating suitable design elements, features and inscriptions into their work depending on who or what the memorial is intended to commemorate. They will also create their memorial using appropriate materials or ICT.
The lesson plan and other useful resources can be downloaded using the links below. An example of a war memorial designed by a school pupil can be found in the Secondary Showcase.