This page shows examples of different church fittings that are also war memorials. Please see the Gallery page for details of how you can use these and copyright details.
Memorial Community Church, Plaistow, London (WM4459)
These ten war memorial bells, located in the Memorial Community Church in Plaistow, are inscribed with the names of 197 local men who fell in the First World War. They were first unveiled in 1925 and a rededication took place in 2011.
© Philippa King, 2011
St Mary in the Marsh, Kent (WM3846)
This clock, erected in 1919 and funded by public subscription, is located on the church tower. There is an accompanying plaque which carries the memorial's inscription, including the names of those it commemorates.

© St Mary the Virgin Parish Church Council, 2010

Little Bollington, Cheshire (WM6520)
This organ carries a brass plaque (shown below left), the inscription on which indicates that the organ was given by local parishioners, 'to blend the worship of Almighty God with a grateful memorial of those gallant men of this neighbourhood who fought for the freedom of the world in the Great War 1914-1918.'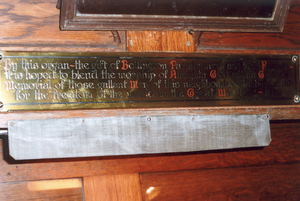 © Holy Trinity Parish Church Council, 2012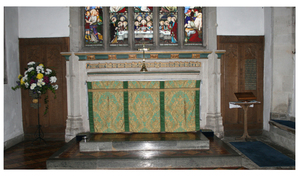 Great Shelford, Cambridgeshire (WM863)
This First World War memorial consists of a reredos with a dedicatory inscription flanked by wooden panels bearing the names of the fallen.
© Brian Wingate, 2011