This page shows examples of different war memorial inscriptions, especially ones that are particularly moving or poignant. These often express community feeling at the time when the war memorial was erected and reveal the motivation for creating a memorial. They can also explain who is commemorated or give other information that may be useful for research.
Please see the Gallery page for details of how you can use these and copyright details.
Pembroke Dock, Dyfed (WM34)
Another inscription, on one of the other faces of the plinth of this memorial, reads:
"This memorial
is dedicated by
the ex-service
men widows and
dependents of
this district
July 30 1921"
© Ceri Jones, 2010
Downham Market, Norfolk (WM545)
This memorial commemorates two young men from neighbouring parishes, killed on the same day a year apart. The memorial stands on the boundary between their parishes.
© War Memorials Trust, 2012.
West Kirkby, Merseyside (WM634)
This inscription, like many others, calls upon future generations to ensure that the people commemorated on the memorial are not forgotten.
© Peter Jackson-Lee, 2010.
Filleigh, Devon (WM652)
These three pictures show some of the detailed inscriptions on this war memorial cross, which commemorates casualties of the Boer War and the two World Wars.
A large amount of detail is given about each casualty, including rank and regiment.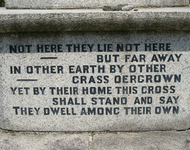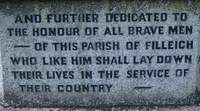 © Alan Graveley, 2010.
Bishops Stortford, Hertfordshire (WM669)
The inscription carved above a list of the names of the fallen reads:
"The
record
of their
honour
and
of our
gratitude."
© War Memorials Trust, 2010
Kemsing, Kent (WM985)
This small plaque is part of a larger cross and reads:
"Is it
nothing to
you, all ye
that pass
by?
1939-1945"
© James Day, 2010
Blackpool, Lancashire (WM975)
The inscription shown here is part of a choir loft, which was added to the original war memorial in Blackpool and unveiled in 2008.
It simply reads: "Sing softly. Be still. Cease."
© Peter Jackson-Lee, 2012.
Bisley, Gloucestershire (WM1917)
Among the inscriptions on other parts of this memorial commemorating the dead, this one gives thanks for the safe return of those locals who survived the First World War.
© Mike Coyle, 2012
East Retford, Nottinghamshire (WM2017)
The inscriptions on this memorial pay tribute to those who sacrificed their lives during the First World War and indicate that the memorial was erected in their memory by public subscription.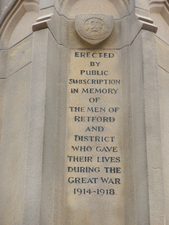 © Rachel Farrand, 2008
Dallington, Northamptonshire (WM6868)
This plaque is attached to a larger war memorial cross. The other sides of the plinth bear the names of the fallen in incised lettering.
© Tom Keyes, 2012
Sherwood (Blackwoods), Nottinghamshire (WM2011)
This war memorial is a gate at the entrance to a Scout site. The inscription urges Scouts entering to ensure 'that you who live are worthy of your dead.' The 24th Nottingham Scout Group are the custodians of the memorial.
© War Memorials Trust, 2011