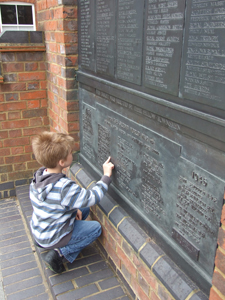 On this page you will find WMT's primary school learning materials focusing on World War II and the memorials that commemorate it. These can be downloaded using the links below.
These resources have been developed for Key Stage 2 pupils and teachers. There are five separate lesson plans dealing with different events and aspects of World War II, and each of these comes with additional resources such as information sheets giving information about memorials to that particular aspect of the war and other ways the war is commemorated now.
These resources focus on the memorials to the war and what we can learn from these, rather than teaching in depth about the war itself, but some information about the events of the war is included to help provide context. However, you may wish to use other sources of information and teaching materials to complement these. The resources are designed to be used flexibly to allow teachers to develop them into part of their wider curriculum. You may decide to use all five lessons consecutively or pick the most relevant ones for your class and teach those only.
War Memorials Trust gratefully acknowledges the support of the Tanner Trust which has made the development of these resources possible.