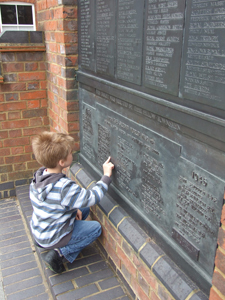 Following the Armistice on 11th November 1918 which brought World War I to an end, communities across the UK expressed a desire to commemorate the fallen and ensure their sacrifices were not forgotten. Around two thirds of the 100,000 war memorials in the UK were created following World War I.
The centenary of when many of these local war memorials were unveiled occur in 2019, 2020 and subsequent years. The teaching materials in this section are designed to help primary schools develop pupils understanding of how and why war memorials were created as they approach the 100th anniversary of their own local memorial. This could be as part of a local history unit or as a one off topic to mark this significant local event.
The resources consist of:
Great artists and war memorials
An art unit which allows pupils to find out about great artists, architects and designers in history
Local War Memorial Committee
A series of drama activities which enable pupils to consider the decisions which were made by local organising committees which were set up to decide what form the memorial would take, where it would be located and who would be commemorated on it
The resources can be downloaded using the links to the left.