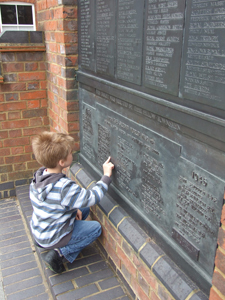 The bodies of the fallen were not repatriated following the end of World War I. Instead they were buried in specially designed war cemeteries abroad. Those left behind at home expressed a wish to have a place nearby where they could remember their loved ones. This led to the creation of tens of thousands of war memorials across the UK in the period immediately after World War I.
Local communities set up War Memorial Committees whose role it was to decide what form the memorial would take, where it would be located and who would be commemorated. There was no local or central government fund for creating these war memorials so committees often had to be proactive in fundraising for them as well.
The activities outlined in this resource enable pupils to take on the expert role as a member of a War Memorial Committee. As they dip in and out of this role they will gain an understanding of the types of decisions made by committees as well as beginning to comprehend the emotions felt by people at the time.
These materials could be used as part of a local history topic. They could also be used to commemorate the 100th anniversary of the school's local war memorial.