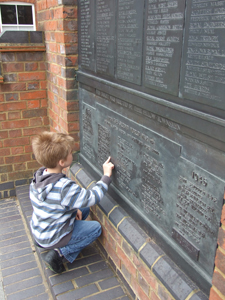 This lesson links war memorials to the science curriculum for Key Stage 2.
Aims of the lesson
The lesson can be used as part of a unit on uses and characteristics of materials to help pupils apply their scientific knowledge, but in this case it would be helpful if pupils have some idea about the function and variety of war memorials. It can also be taught in conjunction with other lessons in this sequence from War Memorials Trust.
During the lesson pupils identify a range of materials by looking at what different war memorials are made from. They will learn about the characteristics of different materials, and therefore why some materials are more suitable than others for particular types of war memorials. They will then have the opportunity to apply their scientific knowledge by looking at the situation of one particular war memorial and analyse why certain materials have been chosen for it.
The lesson plan and other useful resources can be downloaded using the links below.